This page is under construction. Please check back for updated information. 
Ophthalmology residents require proficiency in basic strabismus surgery, spending 4–6 months in PGY-3 to achieve competency. Training programs in strabismus surgery traditionally depend on teaching surgical skills in the operating room on live patients, with graduated responsibility, under direct supervision by an experienced mentor. However, compared to higher case volume cataract surgery, ophthalmology residents perform relatively fewer strabismus surgeries, resulting in fewer opportunities in which to improve their skills
This is why simulation surgery is a necessary part of surgical training, providing risk-free training in technical skills. Deliberate practice in a simulation setting allows skill acquisition, develops efficiency and expertise, resulting in accelerated learning in the operating room with improved patient outcomes.
However, there is a paucity of literature pertaining to assessment tools and curriculum design in strabismus surgery, variable simulation surgery use between training programs and lack of an effective simulation model. In the era of Competency Based Medical Education (CBME) there is a need to develop and validate a high-quality strabismus surgery simulation model, assessment tools, and curriculum to provide our residents with the framework to become competent in strabismus surgery prior to patient exposure in the operating room.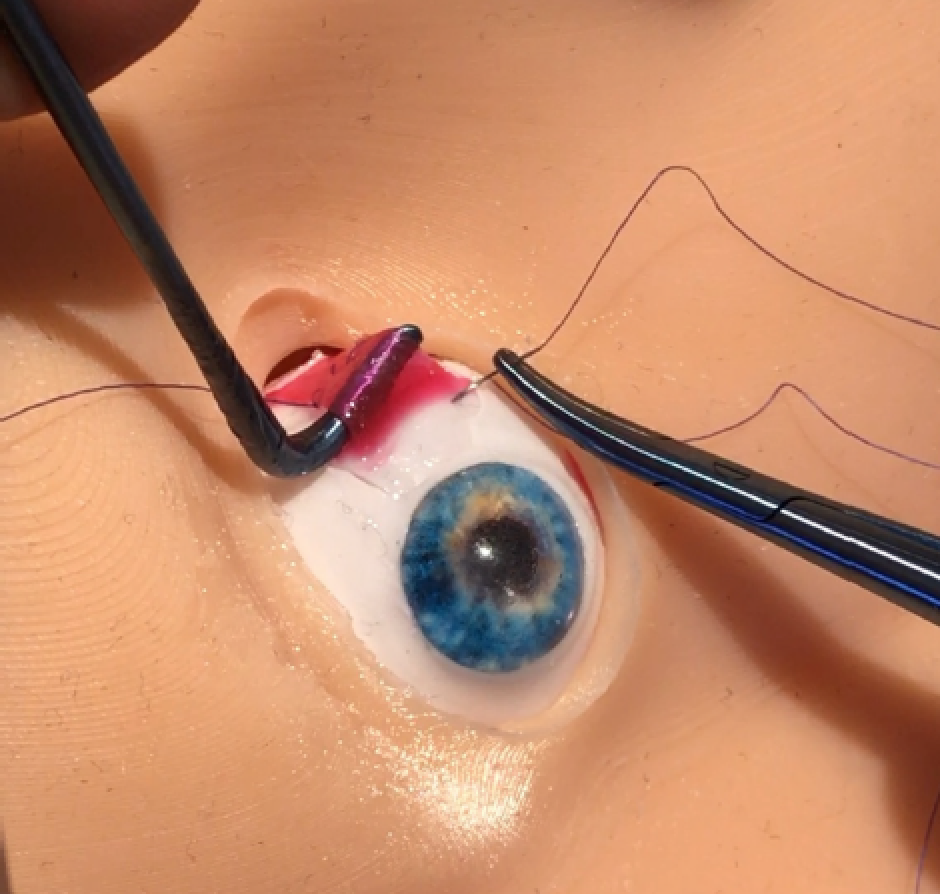 This project will address this issue by developing and validating a novel, high-fidelity 3D printed model eye for strabismus surgery. Using this model, a validated strabismus surgery curriculum will be developed for ophthalmology residents, using surgical video learning, pre- and post-video questionnaires and validated assessment tools.
The intended outcome of the project is to validate both a novel strabismus surgery model and curriculum design for ophthalmology resident training in the simulation lab.
This will be the first structured simulation lab curriculum in strabismus surgery using a validated eye model with validated assessment tools and defined competency targets. Once developed, this curriculum can be adopted nationally and internationally.
Age-related macular degeneration (AMD) is the leading cause of visual loss and blindness in those over the age of 50 years. New onset distortion is a common symptom that may signify the development of wet AMD and urgent treatment can prevent blindness.
Meanwhile, in many medical schools, ophthalmology is frequently not covered in the curriculum. Given the high prevalence of AMD in the Canadian population, the intent of this grant is to develop an educational module on new distortion, a presentation that is very sensitive to wet AMD.
This grant will allow us to teach medical students from most Canadian medical schools how to diagnose and treat AMD in a timely fashion through medskl.com, a free open-access medical education platform used by students from over 70 medical schools in North America.
Diabetic retinopathy is a leading cause of visual loss. This condition affects central vision and, if untreated, can lead to blindness. It has been estimated to affect 3.7% of the Canadian population; nearly 25% of Aboriginal Canadians have some form of diabetic retinopathy.
In many medical schools, ophthalmology is frequently not covered in the curriculum. Given the high prevalence of diabetes in the Canadian population, and the critical role that primary care physicians have in initiating screening, this has led to a significant percentage of the diabetic population being under-screened. A cohort study of five Canadian provinces has shown that 38% of patients did not receive a screening examination, and another 30% had not had a screening examination within the previous two years. The intent of this grant is to develop an educational module, Screening for Diabetic Eye Disease, to ensure that Canadian medical students and healthcare practitioners are more likely to recommend appropriate screening to their diabetic patients.