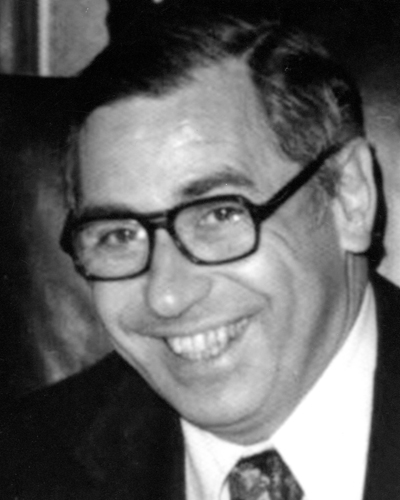 Ophthalmology started as a defined department at Queen's and its affiliated hospitals when it separated from the ENT in 1954. I was the first head of the fledgling department. The principal efforts in my starting years were the organization of the undergraduate curriculum, the development of clinical and surgical facilities, and the search for new faculty. At that time, while individuals had areas of special interest and training, we were all trained to be and practiced as general ophthalmologists.

The organization of the ophthalmology residency program began in 1957. Lacking a critical mass of faculty and patients in Kingston, we organized a "partnership" with the University of Ottawa and the two major Ottawa Hospitals. The first residents were from Mexico (Alberto Warman), England (Godfrey Gransden), and Wales (Tony Griffiths). Those who followed were primarily graduates of Queen's and other Canadian Medical Schools. They were recruited and appointed by Queen's, and their training time was divided between Kingston and Ottawa.

After some four years of experience, we and our Ottawa colleagues felt confident and competent to proceed separately. Our residency was repatriated to the Kingston Campus and soon expanded to two appointments each year. At each stage we were able to satisfy the training requirements of the of the Royal College of Physicians and Surgeons of Canada. For several years we offered a fourth year of training, either in research or in a combined ophthalmic and neuro-pathology program, the latter in collaboration with David Robertson of the Department of Pathology.

Key to the rapid and successful development of the residency program were the arrival on our staff of Jean de Margerie who came from training in Edinburgh and a Rhodes Scholarship, Ronald Pinkerton who had received a glaucoma fellowship with Morton Grant at Harvard, and Tsuyoshi (Go) Yamashita, an ophthalmic pathologist who came to us for a few years from Washington University, St. Louis. John Morgan, a Toronto alumnus, joined us when he completed his term in the RCAF with a special interest in contact lenses, and Wendell Willis followed after his corneal fellowship at Wills Eye Hospital in Philadelphia. With their arrival, a satellite ophthalmology department was opened at the Hotel Dieu Hospital. Robert Perry, one of our Queen's residents returned as a pediatric ophthalmologist after his post-residency fellowship with Arthur Jampolsky in San Francisco, as did Raymond Bell following a fellowship in neuro-ophthalmology at the University of Iowa.

The Queen's program primarily attracted graduates of Canadian medical schools. Those who went through the program during my years as head went on to establish practices in Kingston, Ottawa, Montreal, Cornwall, Belleville, Trenton, Orillia, Brantford, Chatham, several British Columbia cities, and elsewhere.

This basically was the department until 1973. In that year I asked to be relieved of my administrative responsibilities and received a sabbatical leave during which I was a Visiting Professor at the Royal Postgraduate Medical School and the Moorfields Eye Hospital in London, England. Ronald Pinkerton succeeded me as Department Head. When I returned in 1974 I was allowed to pursue my interests in medical retinal disease, ophthalmic pathology and teaching. In 1978 I accepted an academic post in New York, left Kingston and became part of Queen's history!

I look upon it as the defining privilege of my professional life to have been allowed the opportunity, the encouragement and the resources to develop an excellent and well recognized ophthalmology residency. Long may it flourish!

David A. Rosen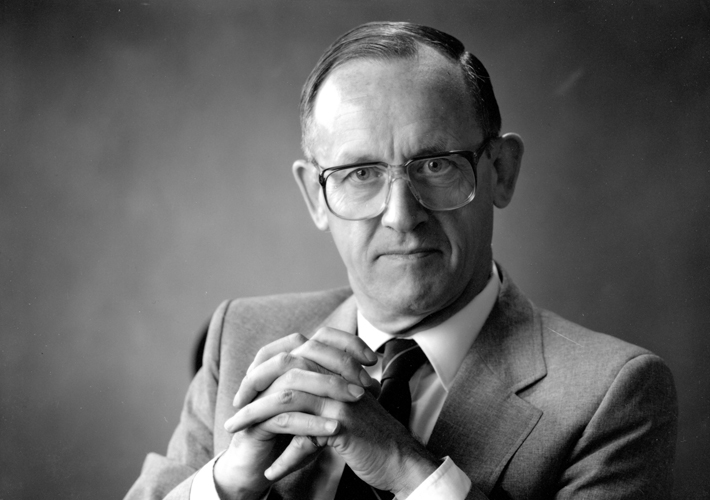 In 1973, I took over the Headship of the Department of Ophthalmology from David Rosen.

Graduate education in Ophthalmology was one of my main interests and I built on our previous strengths. We provided our residents with a strong base of clinical experience, and developed clear statements of expectations and responsibilities for each level of trainee.

A structured academic program based on the excellent American Academy of Ophthalmology course was completed in two year cycles of 4–5 seminars series each year. We consciously avoided the use of outside courses (with the notable exception of Ophthalmic Pathology and the AFIP) and relied on our own staff in each specialty to be the seminar directors (an onerous duty which was accepted with good grace). Visiting 'experts' were brought in at the end of each seminar series to present updates, clarify problems (if possible) and to give another's view to the topic. It was a stimulating way to teach and learn and demanded significant preparation time from both residents and seminar directors.

These were:

Dr. R.A. Bell (Neuropath and Ophthamologic Pathology)
Dr. A.F. Cruess (Retina)
Dr. J.F. Morgan (External Disease, contact lenses, optics and refraction)
Dr. R.J. Perry and subsequently Dr. B.W. Arthur (Pediatrics and Motility)
Dr. R.M.H. Pinkerton (Glaucoma)
Dr. D.A. Rosen (Retina and Ophthalmologic Pathology)
Dr. W.E. Willis (Cornea and Anterior Segment)
Resident attendance and participation was mandatory at the seminar series and was encouraged at national and international meetings. Funding for these meetings was supported by Queen's alumni, Dr. Ernie Johnson of Calgary, and Dr. David Barsky of Detroit.

Drs. J.E.R. Gauthier, A.Y. Kerr, R.D. Macklin, and G.A. Taylor gave many hours of clinical teaching, seminar series, and especially surgical supervision in the O.R.. They provided enthusiastic and strong role modeling for the residents. Dr. Taylor's long active association with ORBIS brought the program a strong awareness of international and 3rd world needs and practice of ophthalmology.

Dr. Vlad Kratky, a graduate of the Toronto program, joined the department in the late 80s and developed a strong ocular/plastic surgery program.

Many of the staff became examiners for the Royal College. Our residents were found to be well prepared, and all were successful in passing their Fellowship examinations. With this reputation, we had little difficulty in obtaining prestigious subspecialty Fellowships.

Our graduates of the period 1973–1991 have practiced with distinction across Canada and in sundry U.S. cities. At the time of this writing, two are currently holding headships in major Canadian universities—Dr. Alan Cruess (Dalhousie), and Dr. Fred Mikelberg (Univ. of B.C.)

Research was formally carried out in the early years by Dr. J.F. Morgan. He developed an international reputation in contact lens technology and pharmacology.

Most residents undertook a research project with a staff member which was ultimately presented at the appropriate COS section meetings or the Canadian Ophthalmologic Pathology Study Group. This research was used as a teaching tool.

Subsequent to the return of Dr. A.F. Cruess in 1983, he organized and completed one of the first multicentred collaborating clinical trails in Canada on the treatment of retinal macular lesions. This study launched his international career in retinal disease. It also produced one of the best ocular photographic units in the country.

We held (when finances allowed it) annual symposia with invited local Canadian and international faculty. There were excellent events that were well attended and did much to reduce our relative academic isolation in Kingston and also served as a showpiece for the department.

The presence of well-trained and committed nursing, ophthalmic technical and secretarial staff emphasized and proved the value of team work in the clinical setting. Their long and loyal service contributed greatly to the camaraderie of those days. No birthday was forgotten, or success overlooked.

After 18 years of headship, I stepped down in 1991. I have many happy memories of the personalities and rigors of those years. Dr. A.F. Cruess succeeded me as the Head of the Department.

Writing this short account in 2004, the 50th Anniversary year of the founding of the Department, I wish all current members the strength and vigor to continue with the enthusiasm and commitment to serve, teaching and research with which it has been endowed.

Ronald Pinkerton
I took over as Head from Dr. RMH Pinkerton in 1991, and was appointed Professor in January 1992.
I returned from Wills Eye Hospital's retina fellowship in 1983 to my alma mater (Queen's Meds '75) to establish a modern sub-specialty retina unit, having been inspired to do so by both Drs. Pinkerton and Rosen, who were my teachers. Drs. Wendell Willis and Jack Morgan were also enthusiastic clinical teachers and supporters of my training. Clinical research was my interest as an Ontario Career Scientist, and I was very fortunate to have the help of Drs. Joe Pater (epidemiology) and Andy Willan (biostatistics), who put Queen's on the map, so to speak, in the world of clinical trials. Canadian retina specialists in academic centres across the country were generous supporters of the work, and formed the Canadian Ophthalmology Study Group or COSG, the basis of what was to become many years later the Canadian Retina Society.
We had a strong postgraduate residency program, as RMH Pinkerton mentioned, which made for a rigorous immersion course for our residents, especially since we had no regular fellows through the early years. Early recruits to the geographic full time (GFT) department included Dr. Martin ten Hove in neuro-ophthalmology from Bascom Palmer Eye Institute, and Dr. Donna Bautista in pediatric ophthalmology to replace Dr. Brian Arthur, who had left for the U.S. Our community ophthalmologists, including Drs. Allan Kerr, R. David Macklin, and Ray Gauthier were outstanding and generous surgical teachers; we could not have thrived without them. Allan Kerr, a gifted surgeon, was the first to transition to phacoemulsification cataract surgery. The community group was joined as RMHP mentioned by Dr. Vlad Kratky who brought subspecialty orbit/oculoplastics surgery to enrich the postgraduate teaching and clinical service in our department.
One important postgraduate educational development occurred during Dr. Robin Walker's internship, now called PGY1, when ophthalmology gained control over the curriculum of the PGY1 year, allowing us to design our own pre-residency year for the first time. This occurred as the residency became 4 years in length. We relied on our understanding and accommodating partners in the Departments of Medicine and Surgery to provide appropriate sub-specialty rotations for our upcoming residents. Dr. Jim Wilson, then Associate Dean of Undergraduate Affairs, is to be commended for effectively allowing us to grow our number of residency positions to maintain two residents per year, an essential quality preserving strategy for the postgraduate education program.
1994 saw the establishment of Queen's School of Medicine's Alternate Funding plan (AFP) and a governing organization known as SEAMO (Southeastern Ontario Academic Medical Organization) to fund academic medicine at Queen's. We in ophthalmology struggled within this organization for several years to make our case amongst the competing priorities of the School of Medicine, but the academic future of the department to support sub-specialty care, teaching and research was then made secure.
1997 saw a major turning point for the department's clinical teaching and research facilities when we were embraced by the Sisters of St. Joseph, and the Board of the Hotel Dieu Hospital to incorporate our clinical, teaching, and research facilities from KGH and Etherington Hall. A beautiful new eye clinic was opened on Johnson 6 of the HDH, which has been recently renovated and expanded. Challenges included starting sub-specialty retina surgery at the Dieu, as this was the last surgery to move over from KGH, but the staff and officers of the HDH at the time, including especially CEO Hugh Graham, are to be commended. The unflagging support of the Jeanne Mance Foundation, under the leadership of Geraldine Tepper, also deserves special mention; we were never once refused our requests for critical pieces of high tech diagnostic and therapeutic equipment for our work.
The recruitment of Dr. Sanjay Sharma (medical retina) to our faculty was a proud achievement, which allowed us to build a centre for clinical research on Johnson 2. His work on cost-effectiveness and utilities of novel therapies in ophthalmology was immediately recognized internationally and has been adopted by newer additions to the faculty.
The department had a strong tradition of outreach clinical service and teaching to Rideau Regional Hospital in Smiths Falls dating from the 1970's first with Dr. David Rosen and later Dr. Ray Bell (neuro-ophthalmology), and continued by AFC after 1983. Outreach expanded to include screening the indigenous Cree communities of western James Bay for diabetic retinopathy, and receiving tertiary surgical referrals from Moose Factory Hospital, work which helped to propel telemedicine and tele-ophthalmology in Canada.
2001 saw a major milestone achieved in philanthropy towards the department when Dr. Ernie Johnson endowed a Chair in Ophthalmology at Queen's with a $1,000,000 gift. Dr. Johnson was a proud graduate of Queen's Medicine, beloved in Calgary, where the Alumni Association named their Chapter after him. He had a distinguished career in ophthalmology being awarded the Order of Canada in 1992 for his missionary efforts, and for the founding of Operation Eyesight Universal. He endowed the Ernie and Edna Johnson Chair in Ophthalmology. Additionally, Dr. David Barsky, also honoured his medical alma mater with a 1 million dollar gift to our department. A former AFIP fellow in ophthalmic pathology, Dr. Barsky had a distinguished career in private practice in Detroit, and contributed to the Kresge residency program by teaching pathology to its residents.
By 2001-2002, the department saw 5 of its members incorporated as geographic full time (GFT) members of SEAMO: Dr. Alan Cruess (retina), Dr. Martin ten Hove (neuro-ophthalmology), Dr. Donna Bautista (pediatrics), Dr. Sanjay Sharma (retina) and Dr. Wendell Willis (cornea and external disease).
Other members of the department included: Dr. Allan Kerr, Dr. Vlad Kratky (oculoplastics/orbit) Dr. David Macklin, Dr. Frank Stockl (retina), Dr. Elaine Woo (glaucoma), Dr. John Cheung (uveitis), Dr. Garth Taylor (cornea) and Dr. David Edmison (refractive). The full-time university portion of the department was, by and large, a "one string basketball team" with limited bench strength in the sub-specialties. It would take the next generation of leadership to add the depth needed to build on the excellent core of ophthalmologists listed above to develop the superb department it is today.
It was my honour and privilege to serve Queen's as Head of Ophthalmology until 2003, when I was appointed as Head of the Department of Ophthalmology and Visual Sciences at Dalhousie in Halifax.
Alan Cruess
Chronology of Department Leadership